Renew and Flow – Yoga + Sound Healing workshop with Vanessa & Steve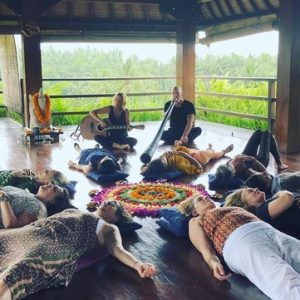 Date: Saturday, 23rd November
Time: 7pm-9.30pm (2.5hrs)
Cost: $70
Book online or email us for more information – [email protected]
Open heart, an open mind and a willingness to be open to all possibilities.
This will be no ordinary 2.5hr workshop but rather an adventure into the depth of the chambers of the soul through the powerful mediums and ceremonies of Song, Sound, Mantra, Yin/Yang Yoga, Sound healing and intention setting ceremony.
Flowing out of the powerful spiritual currents illuminated by the High Holidays and corresponding lunar cycle, this will be and ideal time to energetically declutter, clear our unwanted thought-form and Create a new sacred intention.
Vanessa Forbes and Steven Mazabow will take you on a sacred journey of Renewal and regeneration through the powerful mediums of meditation, mantra, yin/yang yoga, intention setting and manifestation. We will conclude the adventure with a Deep Dream Sound Healing session leaving with a feeling deep inner peace and serenity.